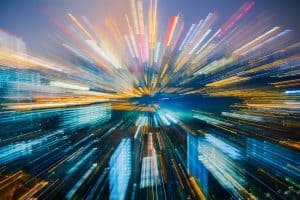 The team at Blockchain.com, a leading crypto wallet provider, trading platform and block explorer service that recently acquired an additional $300 million in capital, notes that in the crypto space, "one month can feel like an entire quarter — a lot happens."
Blockchain.com points out that this fast-paced environment can make it really challenging to keep up or stay up-to-date with everything. That's why they're introducing Chain of Events, a monthly update that informs industry participants about the latest developments in the nascent blockchain and crypto space.
This month, the team at Blockchain.com is pleased to introduce instant USD transfers "within both the Blockchain.com Wallet and Blockchain.com Exchange." As confirmed in the update,  this feature — now available "for all Gold status eligible US residents" — lets clients link a bank account and transfer funds into Blockchain.com "instantly."
Blockchain.com confirmed that they recently announced their Series C fundraise that was led by DST Global, VY Capital and Lightspeed. They also welcomed Lane Kasselman and Jim Messina to the Blockchain.com team.
The UK-based digital assets firm writes in a blog post:
"As the crypto ecosystem and Blockchain.com continues to grow, the need for experienced leaders to bring us into the next phase of growth is critical. We're excited to welcome these two into the fold and continue building great products with their stewardship."
While commenting on the Bitcoin or BTC price, Blockchain.com noted:
"After starting the month at $48K, Bitcoin broke through to a new all-time high of $61K. Numbers have since settled back down to the $55K range, and while we hope to watch Bitcoin moon, there's no telling what will happen next. Around the same time, the price of Ethereum bounded toward its previous all-time high of $1,900. Numbers have since settled around $1,700.Whether you're a bitcoin maximalist, ETH head or somewhere in between, there's no denying March has brought its fair share of crypto excitement."
As mentioned in the update from Blockchain.com, when you first start out in crypto, many people simply want to know how to purchase their first coin. The company claims they've made it quite simple to purchase Bitcoin, Ethereum and other digital currencies right in your Blockchain.com Wallet.
You just have to verify your identity and then you're pretty much "good to go," the company notes while adding that with easy payment options such as Instant Transfers in the United States and Faster Payments in the United Kingdom, you can make purchases as fast "as the market moves."
The Blockchain.com team further noted:
"NFTs have been all the rage this month. On March 3rd, Rolling Stone reported that Kings of Leon will be the first band to release an album as an NFT. This announcement seemed to spur on other NFT news coverage. Christie's auction house closed a sale on a Beeple NFT for $69.3 million. Christie's is the first major auction house to sell a non-fungible token and the importance of this has not been lost on the crypto community. If I were a betting (wo)man, I'd say we haven't heard the last of NFTs — not by a long shot."




Read More: Chain of Events Update from Blockchain.com Reveals that it Supports Instant Transfers in