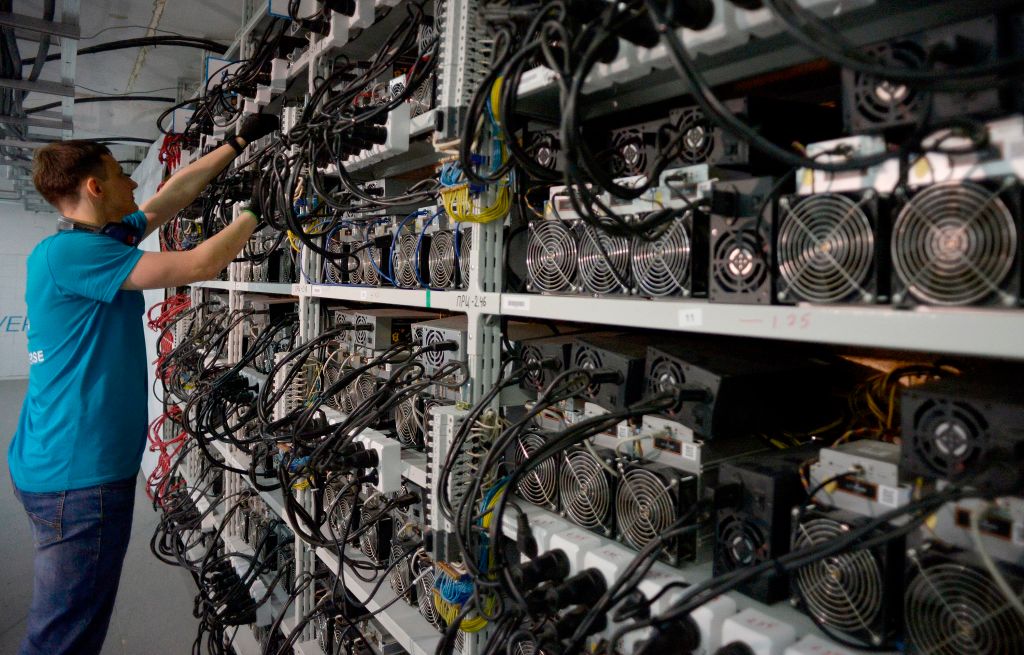 This is Bloomberg Opinion Today, a national hockey team of Bloomberg Opinion's opinions. Sign up here.
Today's Agenda
Bitcoin Is No Finland
Finland is a country with a generous welfare state, a strong military, a very good hockey team and an economy that makes a small group of people very wealthy. The U.S. government has all of that, too (OK, fine, the U.S. hockey team is privately funded, but play along). Bitcoin devours the same amount of energy as both Finland and Uncle Sam, but returns only the getting-a-few-people-wealthy part. No welfare state, no military, no hockey team.
You can't really even use Bitcoin to buy a sandwich, say, or a Tesla. OK, fine, Elon Musk says people can now do the latter thing. But why would you want to buy a depreciating Tesla with endlessly appreciating Bitcoin? Another huge problem is that, unlike gold or other assets, the more expensive Bitcoin gets, the more resources it consumes, in electricity and computer chips, writes Noah Smith. That's because higher prices inspire ever more Bitcoin mining. This increasingly puts Bitcoin miners at odds with governments who want those resources for other things, such as welfare states and militaries. Eventually, Bitcoin will have to control its consumption problem or face widespread mining bans. Unless it wants to start paying Social Security and form a hockey team.
Disney's Kingdom Is No Longer Magic For AMC
Bitcoin and GameStop stock are probably the two best-known meme investments, those things people buy and HODL strictly for the Internet lulz. But there are arguably some old-fashioned, money-making justifications for them. Bitcoin has and probably will continue to make some people very wealthy. And the moves GameStop CEO Ryan Cohen is making justify optimism about the video-game chain, Tae Kim suggests. 
But there are other Reddit darlings about which you might want to think twice before growing diamond hands. Take AMC Entertainment, the movie theater chain. Redditors pumped this stock up from about $2 to about $10 a share, shouting #SaveAMC all the way. But Tara Lachapelle warned memes and hashtags wouldn't save a business threatened by our Covid-era viewing habits. Sure enough, AMC's trip to the moon stalled out in low Earth orbit.
And then Disney announced yesterday it was sending the new MCU entry "Black Widow" straight to streaming. This move, Tara writes in a new column, is a brutal gut-punch to the comeback hopes of AMC and movie theaters generally. Even before the pandemic, people were mainly rousting themselves off their couches for Disney blockbusters. And if the pandemic never ends, as Andreas Kluth suggests? We'll all be fine watching Scarlett Johansson and Simu Liu at home. AMC, not so much.
Further Pandemic-Business Reading: Retailers should keep stepping up their curbside-pickup game. — Sarah Halzack 
Ending the Filibuster Could Slow Gun Violence
West Virginia Senator Joe Manchin has long favored sensible gun-control legislation, once sponsoring a bipartisan bill calling for universal background checks. That died in the Senate, the place many good things go to die, not because it lacked majority support but because it lacked enough GOP votes to end a filibuster. Herein lies the conflict in our story, notes Joe Nocera: Joe Manchin also wants to preserve the filibuster. Now that America has gotten back to its pre-pandemic pace of one mass shooting a week — the latest in Boulder, Colorado — Joe Nocera wonders if Joe Manchin might finally find a reason to drop the filibuster and pass a law or two that will at least slow the carnage. Is a problematic old Senate tradition really worth this many lives?
Further Problematic Senate Reading: Making D.C. a state wouldn't solve the Senate's antidemocratic nature but would invite GOP retaliation. — Noah Feldman 
Telltale Charts
Cathie Wood isn't worried about the stock market, Tesla or any of her other bets, writes Matthew Winkler.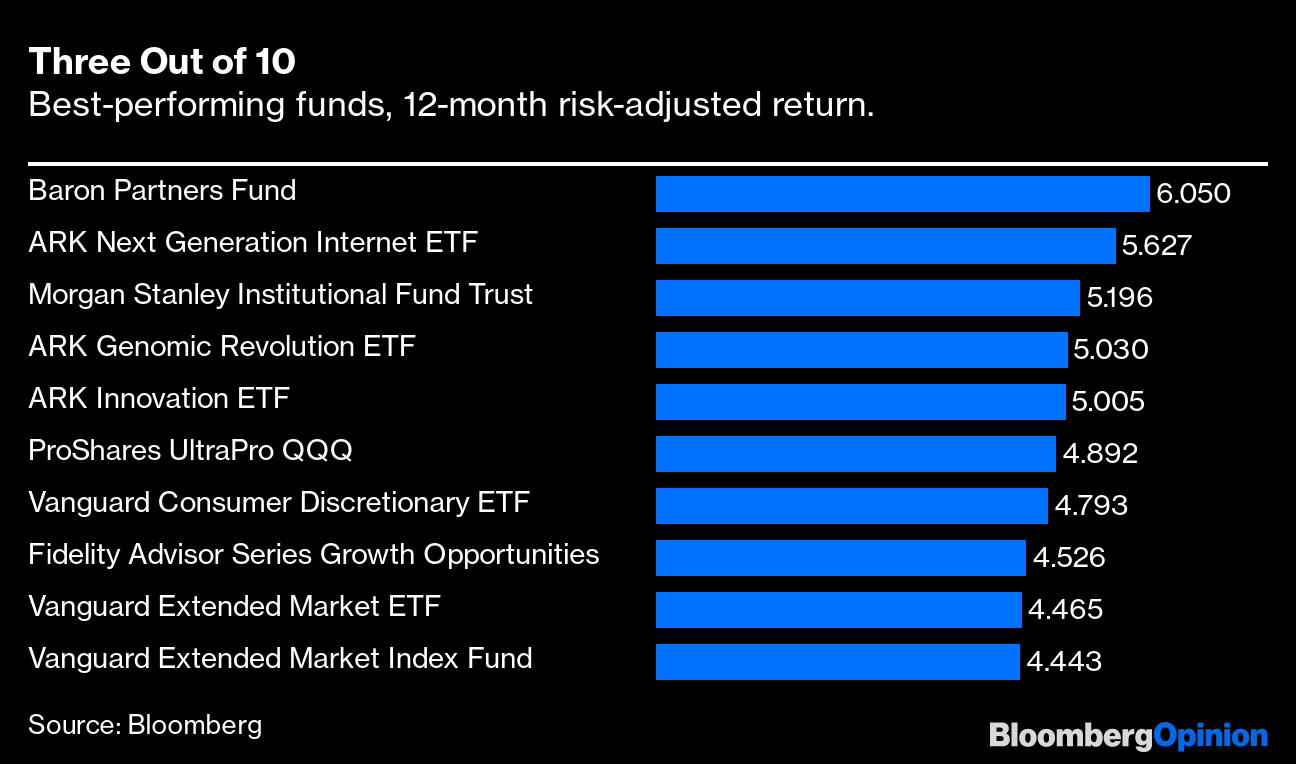 The timing, and the SPAC market, may be right for WeWork to finally go public, writes Chris Bryant.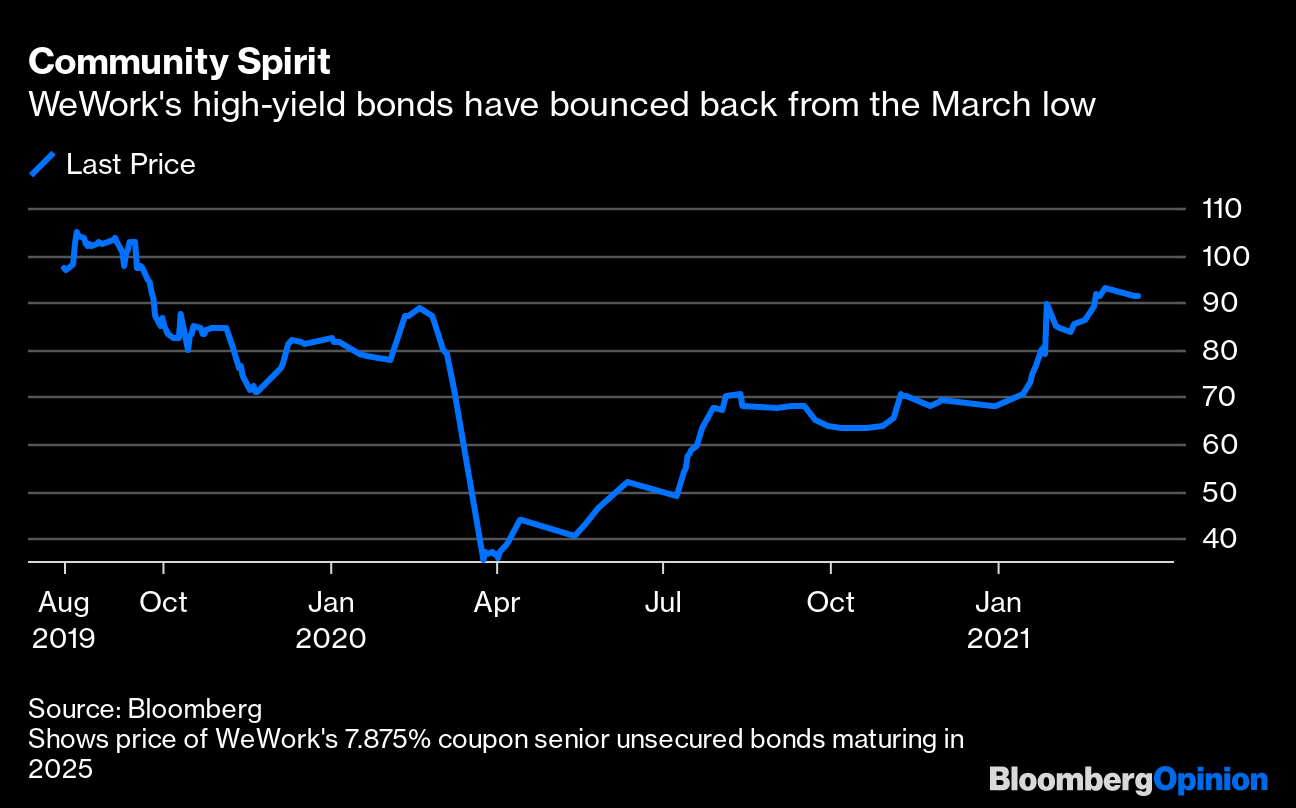 Further Reading
President Joe Biden should OK a Trump-era rule proposal to speed up organ donations. — Bloomberg's editorial board 
SoftBank stirred Greensill into its portfolio of unicorns, and now it's paying the price. — Shuli Ren 
Walmart wants to get into banking. Here's what it can learn from British grocers that tried and struggled. — Andrea Felsted and Sarah Halzack 
It looks like Benjamin Netanyahu will retain power, this time with a fully right-wing coalition. — Zev Chafets 
We need more detailed data about pay discrimination against women. — Rhonda Vonshay Sharpe 
ICYMI
The Suez Canal has a blockage.
Some knockoff hand sanitizers have a carcinogen.
New York will soon legalize recreational marijuana use.
Kickers
Humpback whales are organizing in huge numbers, for unknown reasons. (h/t Scott Kominers) 
Relax, everyone: You no longer need to buy black-market Grape-Nuts. (h/t Mike Smedley) 
You may want to avoid Cinnamon Toast Crunch for a while, however.
Bald eagles have bounced back.
Notes: Please send sugar-coated shrimp tails and complaints to Mark Gongloff at mgongloff1@bloomberg.net.
Sign up here and follow us on Twitter and Facebook.
To contact the editor responsible for this story:
Brooke Sample at bsample1@bloomberg.net




Read More: Bitcoin ($BTC) Has an Electricity-and-Chip-Consumption Problem