The Ethereum Classic price has been trading sideways in a $10 range, struggling to clear overhead resistance since the start of the month. Ethereum Classic (ETC/USD) is trading at $52.48 (+0.20%), up 11.78% in October, and +1,070% year-to-date. ETC's current market cap of $6.85 billion makes it the 29th-most valuable cryptocurrency, behind TRON (TRX/USD).
This morning, Bitcoin is trading at $64k, just shy of its all-time high, which has lifted the combined value of the cryptocurrency market to a record $2.5 trillion. However, despite some exceptions, the majority of altcoins are trading way below their peaks. Despite climbing around 20% from the last month's low, ETC will need to improve by 50% to reach the four-month high of $78.80, set earlier in September. Furthermore, The Ethereum Classic price is still 70% less than the ATH of $184.80 set in May. But even though the token is trading at a steep discount, there are no signs of an impending rally.
ETC Price Forecast
The daily chart shows that Ethereum Classic is capped by the 50, 100, and 200-day moving averages between $55.29 and $55.50. The tightly grouped indicators combined pose a considerable obstacle for the bulls. As long as ETC stays below $55.28, a test of trend support at $47.00 is likely. However, successfully clearing the moving averages should attract enough bullish momentum to lift ETC towards trend resistance at $73.00.
The Moving Average Convergence Divergence Indicator (MACD) and the Relative Strength Index (RSI) have neutral readings. Additionally, the trading volume is light, indicating a lack of investor interest. On that basis, I expect the sideways price action to continue for now. The current outlook for the Ethereum classic price is neutral, in a $47.00-$55.00 trading range,
Ethereum Classic Price Forecast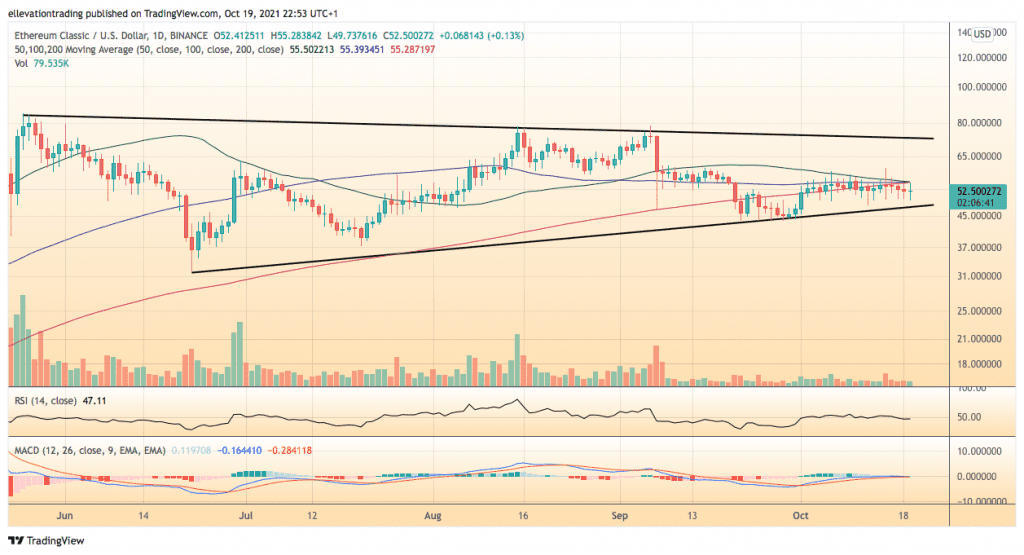 For more market insights, follow Elliott on Twitter.




Read More: ETC is Heavy Below $55