After losing 10% yesterday, the XRP price is bouncing back this morning as bulls push to reverse the damaged technicals. Ripple (XRP) is trading at $1.051 (+5.75%), up 10.3% in October and around 350% year-to-date. XRP currently has a market cap of $6.74 billion and is ranked the 7th-largest cryptocurrency behind Solana (SOL).
During yesterday's sharp sell-off, Ripple broke down below several significant support levels. Not only did XRP drop out of its recent uptrend, but it also slid below the long term moving averages. Furthermore, the price ended the day below the indicators, which is incredibly bearish from a technical standpoint. However, this morning XRP is trading above the moving averages and back in an uptrend. This is likely due to Bitcoin's bounce from $58,00 to $59,500 in the last few hours. Following yesterday's pummeling, there is a growing expectation that BTC will see further weakness. However, BTC is higher by 2.3% this morning. As a result, buyers have returned to altcoins, albeit nervously. However, until BTC convincingly clears $60k, it remains vulnerable. However, above $60k, the bulls may run it higher, and if that happens, altcoins like Ripple should see some uplift.
Ripple Price Anaysis
The daily chart shows the XRP price dropped below a rising trend line at $1.04 on Wednesday. Additionally, the token lost the support of the 50, 100, and 200-DMA's at $1.056, $1.020, and $1.026, respectively. Now with the price above the indicators and the trend, they are acting robust support levels. As long as Ripple closes above $1.056, it should advance to trend line resistance.
The descending trendline from the April high is currently capping the price at $1.18. Successful clearance of the trend on a closing basis would be highly constructive. In that event, an extension towards the September high of $1.477 looks probable. Furthermore, if BTC strength accompanies the technical breakout, XRP may exceed the September high. Of course, the bullish view relies heavily on Ripple closing above the critical support levels. Therefore, if the price closes below $1.056, it invalidates this thesis.
XRP Price Chart (Daily)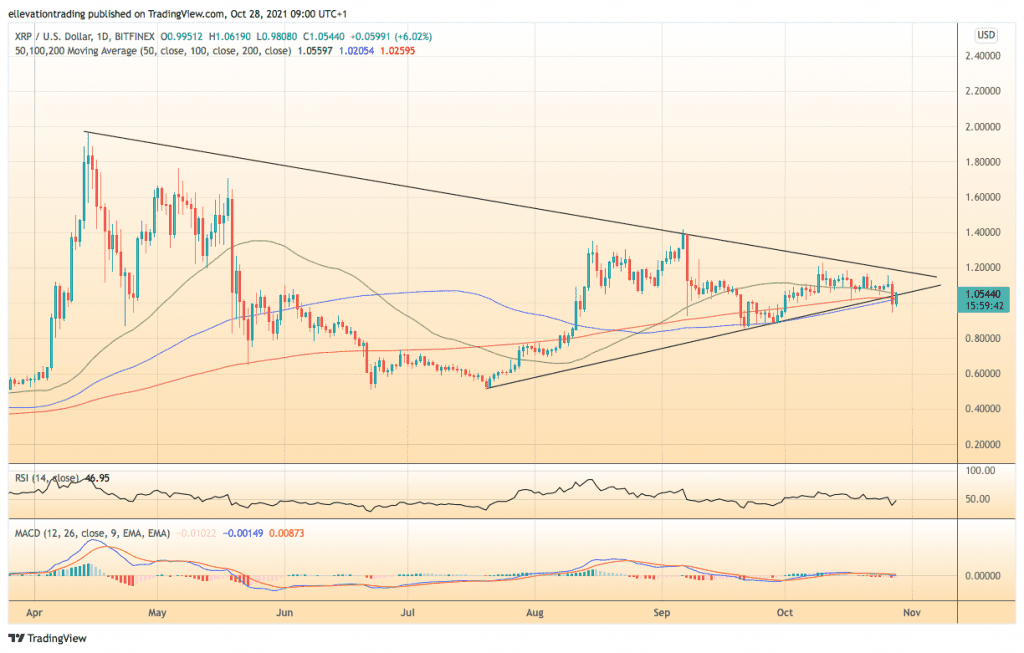 For more market insights, follow Elliott on Twitter.




Read More: Ripple Fights to recover Key Support Levels