Looking to invest in Litecoin (LTC) in Australia? You have two main options. You can buy Litecoin (LTC) coin directly. Or you can trade in what are known as 'currency pairs', where you trade on the performance of LTC versus a fiat currency (like USD, EUR, or AUD) or another crypto. Either way, the safest way to invest in Litecoin (LTC) is to use an online broker.
Below we outline the reasons why Litecoin (LTC) might suit your investment portfolio, as well as review 3 reputable brokers which all take Australian Dollars (AUD) and allow you to trade in Litecoin (LTC).
Best Broker to Invest in Litecoin – eToro
How to Invest in Litecoin – Step-by-Step Guide 2021
To invest in Litecoin, you will need to use an online broker.
Step 1: Open an eToro account: It does not take long. Go to eToro.com. Press the 'Join Now' button. Supply a username, your email and a password. (You can set up 2FA security once you are verified). Tick the acknowledgement boxes when you have read the legal documents. When ready, press the 'Create Account' button.
Step 2: Verify your identity: All reputable brokers have verification processes in place. eToro is no exception. You will need to supply 2 scans: proof of identity and proof of address. Use a scan of your passport to get verified quick. You will receive an email once you are verified.
Step 3: Fund your account: Press

the blue 'Deposit Funds' button. From Australian investors, eToro accepts AUD via bank transfer via POLi, credit/debit card, and PayPal. There is no deposit fee. 14 other currencies are accepted.

Step 4: Invest in Litecoin: Enter 'Litecoin' in eToro's top search bar. Press 'Trade' to review your investing options. Trades are instantaneous and commission-free.
Where to Invest in Litecoin – Top Litecoin Brokers Australia
You can invest in Litecoin (LTC) via an exchange or a broker. Crypto exchanges tend to offer lower spreads on crypto, which means you might pay less on your transactions. But the downside with exchanges is that there is no safety net. Some exchanges (like the biggest, Binance.com) are in trouble with regulators. And to buy crypto from an exchange safely, you really need to store your purchases in your own crypto wallet. It can get complicated.
Use a broker instead. Brokers are set up for beginners, whereas exchanges are set up for experts.
If you are investing in Australia, a key consideration is finding a broker that takes Australian Dollars (AUD). As the fifth most traded currency in the world, you would not think that should be a problem.
But some brokers are limited in what countries they can serve. Many of the giant US brokers – such as TD Ameritrade, Fidelity and E*TRADE – can only accept US clients. Premium UK brokers Hargreaves Landsdown can only accept UK clients.
eToro, AvaTrade and Capital.com are 3 brokers with great reputations that welcome investors living in Australia. All 3 take AUD as a deposit currency. 
1. eToro – Best Overall Litecoin Broker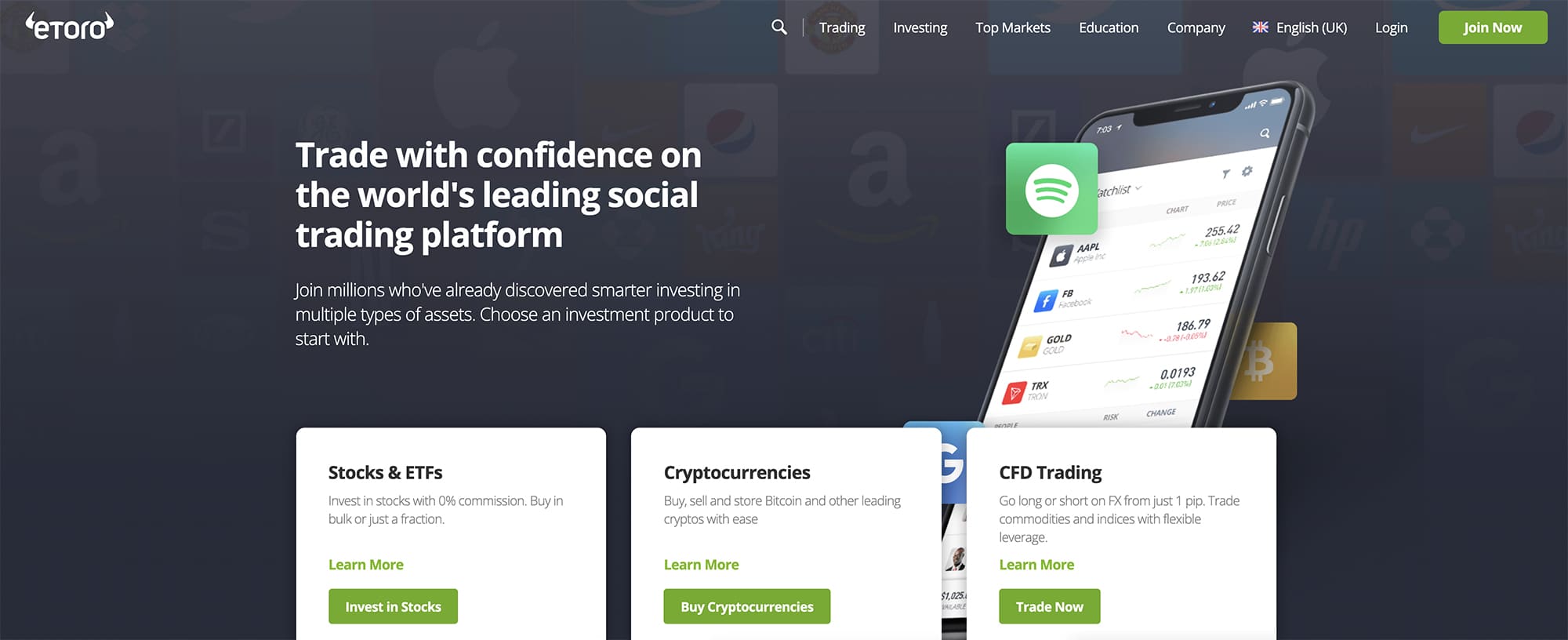 20 million investors from 120+ countries are signed up with eToro. Regulation is provided by the UK's FCA, CySEC of Cyprus and ASIC of Australia. eToro is a reassuring and simple environment to begin your investing journey – with a super-clear interface, transparent fee structure and numerous ways to trade and learn.
No commissions are charged on most trades, although spread fees do apply to crypto transactions.
eToro accepts Australian dollars (AUD) as a deposit currency and offers 2 ways to trade Litecoin (LTC).
Litecoin (LTC) Investment
With eToro, you can invest in Litecoin in three ways:
You can buy Litecoin (LTC) direct – and either leave it in your eToro account, store it in your eToro wallet or export it to an independent crypto wallet.
You can trade Litecoin (LTC) as part of a currency pair.
You can copy one of the eToro CopyPortfolio strategies that trades in Litecoin.
1. Buy Litecoin (LTC) direct with eToro
With eToro you can buy Litecoin (LTC) and actually own the stock.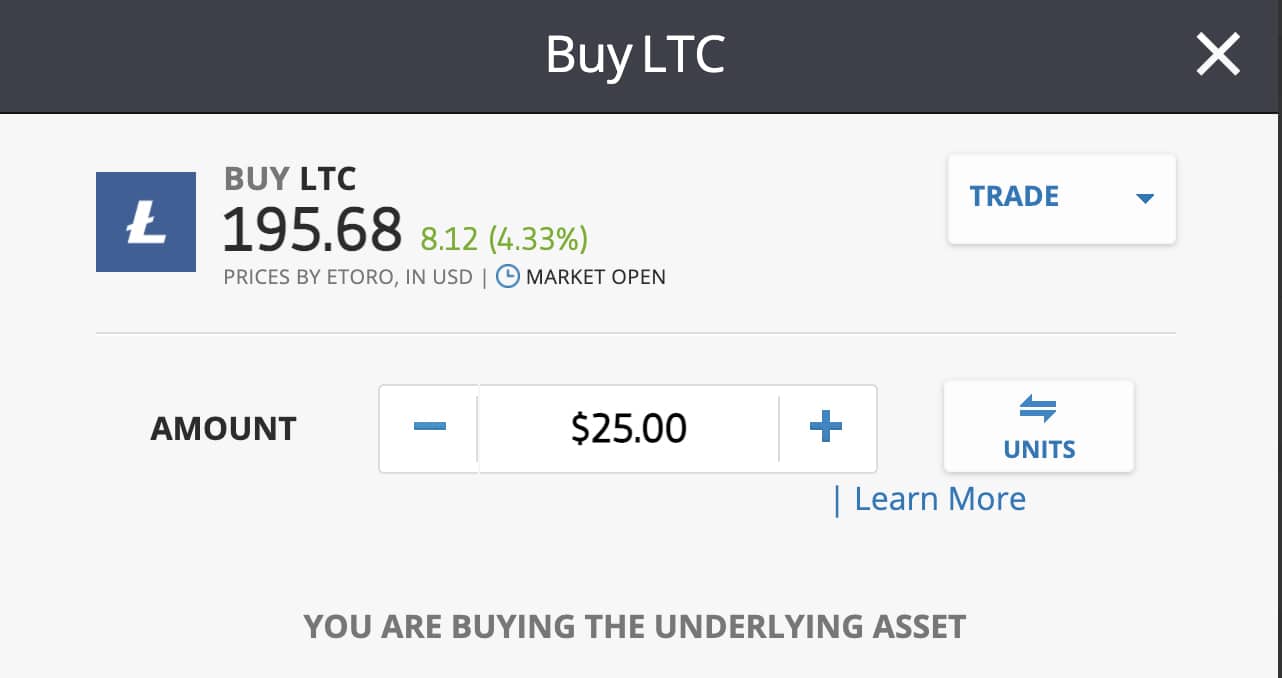 eToro charges a typical spread of 1.9% on Litecoin (LTC).


You can go short on Litecoin too with eToro (if crypto CFDs are allowed in your country of residence, which they are in Australia).
Going short on a crypto involves using a CFD (Contract-For-Difference). eToro enacts this automatically. The advantage of a CFD is that you can leverage your trade. The disadvantage of a CFD is that you do not own the stock at any point – but, if you are going short, this should not pose a problem.
2. Trade Litecoin (LTC) with eToro as part of a currency pair
With eToro, you can trade Litecoin (LTC) with it making up one half of a 'currency pair'.
Currency pairs are a forex device. Traders use pairs to bet on the relative strength of one currency vs. another. The most popular conventional currency pair globally is EUR/USD, which allows you bet on the relative strength of the Euro vs. the US Dollar.
When a conventional fiat currency is paired with a crypto (like Litecoin), the pair is called a 'currency pair.' When two crypto are paired together, that is called a 'crypto cross.'
On crypto exchanges, crypto crosses and pairs are often used to exchange one currency for another. This means that you actually have to own one of the currencies, whether it is a conventional fiat currency or crypto (from your crypto wallet).
eToro offers the powerful advantage that you can trade a crypto pair or cross without owning either of the currencies involved, or having a crypto wallet. You can simply a buy into the pair using your eToro funds (which are always stored as USD) and be exposed to the difference in price.
Crypto pairs and crosses give you a slightly more sophisticated way of investing in Litecoin (LTC) than simply buying (or shorting) stock. That is because you can take into account the relative strength of other currencies.
With eToro, you can trade Litecoin (LTC) as a currency pair vs. the Euro, British Pound, Australian Dollar, New Zealand Dollar, Canadian Dollar, Swiss France and Japanese Yen.

Say, for example, that you believe Litecoin (LTC) will rise in value against the Australian Dollar (AUD). Then you would 'buy' into the LTCAUD pair using your eToro USD funds. Pressing the black 'B' button takes you to your buying options.
If you believe, rather, that the AUD will rise in value vs. the price of Litecoin, you would 'sell' into the LTCAUD pair. Going short on cryptos requires entering into a CFD (contract-for-difference). This is permitted for Australian investors. To begin this process, press the 'S' button.
(In the image above, the 'S' button is greyed out. That is because the image was taken from a UK account. In the UK, CFD crypto trading is not allowed.)
The critical thing to understand about currency pairs is that the first currency mentioned is the base currency – and this is the currency you are betting will rise in value. Don't get muddled up!
3. Invest in an eToro CopyPortfolio trading strategy that trades in Litecoin
A good way to spread your risk is to invest in one of eToro's CopyPortfolios. These allow you to follow an eToro investment strategy and invest in a bunch of related stocks all at once. eToro provides a range of crypto CopyPortfolios.
With eToro's CryptoEqual Portfolio, you can invest in a portfolio including Litecoin and other cryptos. The special thing about this particular CopyPortfolio is that it is arranged in proportion to the market capitalisation of each crypto; hence the name 'CryptoEqual'. Litecoin comprises 3.61% of this portfolio currently.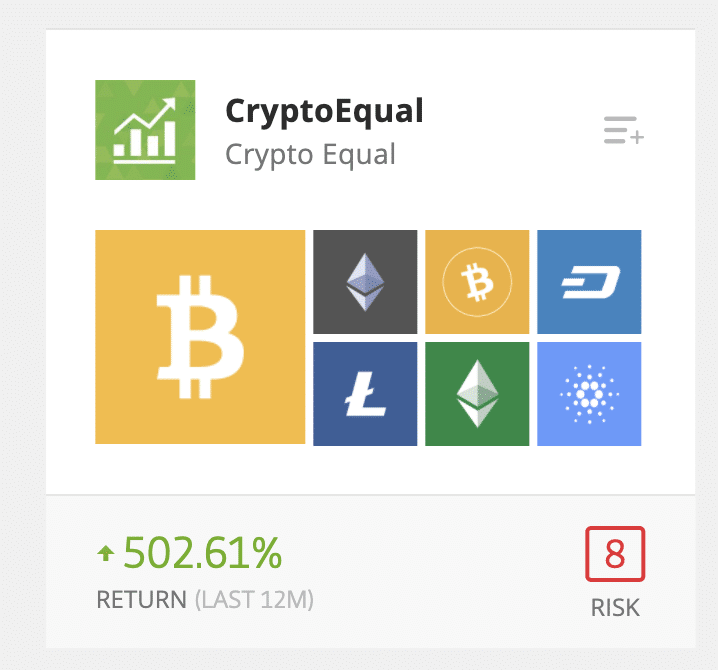 Another eToro CopyPortfolio containing Litecoin (LTC) is called Napoleon-X. This portfolio uses AI to invest in a variety of crypto crosses, including LTC/USD. This portfolio currently holds 4.95% Litecoin (LTC).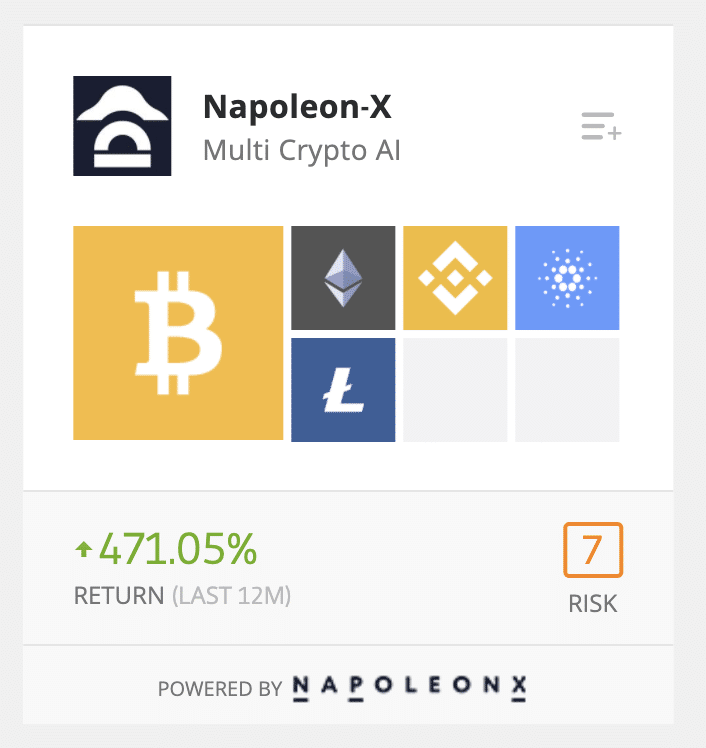 Note that you will need a minimum of $1000 to invest in an eToro CopyPortfolio. You will also be exposed to the spread fee on any transaction. The spread fee is the difference between the buying and selling prices offered by eToro. Spread fees are used by all brokers to cover their costs. Using Litecoin (LTC) as an example, eToro explains spread fees here.
Features
You don't have to go it alone with crypto trading with eToro. You can copy experienced crypto traders for free using eToro's CopyTrader. CopyTrader allows you to allocate some of your funds to match, automatically and in real-time, the trades of a trader you have picked from the list available. These traders are other eToro users. You can review the performance of their portfolio, as well as see their appetite for risk. You can copy many traders at once.

For beginners, eToro's CopyTrader offers a great way to learn the ropes of crypto trading.
Regulation
Cyprus Securities & Exchange Commission (CySEC).
Australian Securities and Investments Commission (ASIC).
Financial Conduct Authority (FCA).
The funds of eToro clients are held separately from eToro capital.
eToro Fees
| | |
| --- | --- |
| Fee Type | Fee Amount |
| Commission Fee | 0% (for UK and European investors) |
| Spread Fee | Variable dependent on asset |
| Deposit Fee | $0 |
| Withdrawal Fee | $5 |
| Inactivity Fee | $10 monthly fee applies after 1… |


Read More: Invest in Litecoin | How To Invest In Litecoin (Australia) For Beginners