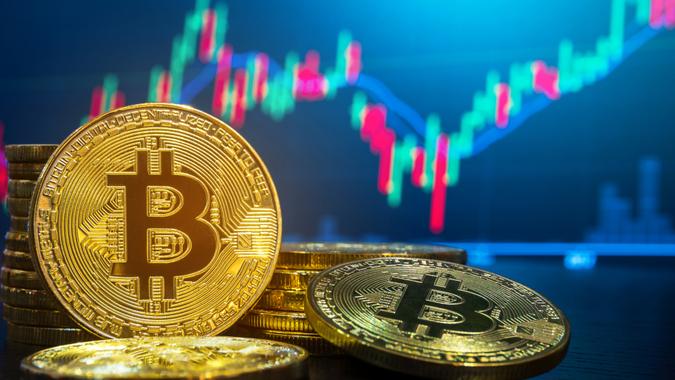 NanoStockk / Getty Images
Whenever trading is open, from morning until night, the stock market is in flux. The direction the value of a stock moves, and how quickly, is based on what investors think might happen. The market is highly susceptible to the emotions of people — even if they aren't investing — and any speculation can lead to an increase or decrease in valuation, like 2021's GameStop surge.
The market is pretty random, but it's not completely unpredictable. Experts gauge the sentiments throughout the nation and combine that with past patterns, usually in the form of candlestick charts, to guess what the stock market might do next. Then they typically would use this information to make their own purchasing decisions, which then influences the prices of the market and other investors' decisions.
CNN developed a tool to come to a similar conclusion. Combining current behavior in several factors, like stock price breadth, the original fear and greed index suggests what investors might be feeling right now, which indicates what their behavior might be in the near future. Fearful means less buying and more selling and a bear market, while greed means more buying and a bullish market.
The terms "fear" and "greed" are based on a quote from Warren Buffett in 1986, when he said, "We simply attempt to be fearful when others are greedy and to be greedy only when others are fearful." The tool shows what others may be feeling.
Alternative.me created a fear and greed index for crypto, which shows the same information, but focuses only on the Bitcoin market. It can be applied to crypto in general.
How Do You Read the Crypto Fear and Greed Index?
The Crypto Fear and Greed Index uses a 0 to 100 scale:
0 means the market is most fearful.
100 means the market is the most greedy.
A fearful sentiment, a score below 50, would mean that the market might be undervalued and ready for an upswing. A greedy sentiment, a score above 50, would mean that the market is overvalued and might swing down soon.
The more extreme the score, the more accurate the index gets. The further overvalued or undervalued the market gets, the more likely it is that it will correct itself. As Bitcoin's value rises, more people will start feeling FOMO, or the fear of missing out, and buy. The index will show this is happening with a higher score.
There is also a graph of the index over time to see if the indicator itself has been swinging wildly or if it has been consistent. Analysis of past fear and greed calculations can show if the current score is part of a cycle, like around elections, or something more unusual and possibly a one-time event.
How Is the Crypto Fear and Greed Index Calculated?
The Crypto Fear and Greed Index is calculated by measuring six investment indicators. These are weighted slightly differently in the calculations based on which ones are expected to have a bigger impact on investor behavior.
Volatility (25%)
This compares the current value of Bitcoin to its average value over the last 30 days and the last 90 days. Bigger differences in these values indicate more volatility would move the index value down toward fear.
Market Momentum/Volume (25%)
This compares the volume of Bitcoin trading over the last 30 days and 90 days. More high-volume buying would suggest a positive sentiment and move the index toward greed.
Social Media (15%)
This looks at what people are saying about Bitcoin on social media. Positive statements indicate positive sentiment, but it also looks at the number of statements. A sharp uptick in the number of posts about Bitcoin may still indicate a greedy market, even if they aren't all positive. This happens because it keeps Bitcoin at the forefront of people's minds.
Dominance (10%)
This input measures Bitcoin's share of the crypto market against all the other cryptocurrencies. When Bitcoin starts to dominate the crypto market, it means that funds are being diverted from the alternative coins. Bitcoin has become a safe haven in the crypto market, so when it loses dominance, it indicates investors getting excited and greedy to take their chance on the smaller coins.
Search Trends (10%)
The volume of searches that people are making may indicate a greedy market, but this also looks at the content of the searches. If negative searches about Bitcoin are trending, like "is bitcoin a scam" or "bitcoin value manipulation," that's an indicator of fearful sentiment.
Surveys (15%, paused)
Weekly surveys were conducted to get direct market response about how investors were feeling. There were typically between 2,000 and 3,000 respondents weekly, so it was a good sample size. It hasn't been used in some time, and there's no mention of whether these surveys will start again.
Does the Fear and Greed Index Work?
The intent behind the index is for investors to be able to make better decisions by showing what the market will do. Unfortunately, these indices can only show what investors have already done. Even if they are only a day old, posts, surveys and market analyses are all looking at what investors did in the past.
Does that mean people shouldn't consider the Crypto Fear and Greed Index in their investment decisions?
Not at all. These types of indices are another tool in the investor toolbox to help make sense of a completely unpredictable market. They can show if individual investor feelings match with general market sentiment, which can be used as a gut check and reduce irrational trading decisions.
Bottom Line

While both Alternative.me and CNN's Fear and Greed Index are great to have around, don't base your entire purchasing decisions on them. Investors should take a holistic approach, combining the scores of these indices with other information, past patterns, and what you feel might happen in the market to make an investment strategy.


Read More: What Is the Crypto Fear and Greed Index?