On June 25, Litecoin prices hit the $60 resistance level and failed to break to the upside. Another trial followed this in the early hours of June 26, when prices also failed to break to the upside. As the session progressed, a new bearish trend emerged, which saw the session close with a price loss of 3.8 per cent.
Since then, Litecoin prices have continued to plummet, dropping by 13 per cent in the past three trading sessions. Today, the prices are down by a percentage point, continuing the three-day bearish trend.
Why Is Litecoin Dropping?
The past few weeks have seen the cryptocurrency struggling in the markets. However, starting on June 14, the tide of the industry started to change, and we started to see cryptocurrencies such as Bitcoin and Litecoin start to gain in the markets. 
The tide has now begun to change for the downside, which is affecting Litecoin prices. For instance, Bitcoin, which is positively correlated with Litecoin, also started dropping on June 25 and has continued in four consecutive trading sessions since then. A drop in Bitcoin also means all cryptocurrencies that have a positive correlation with it are affected. Litecoin, forked from Bitcoin, has been among the most affected by the current bear market. 
Litecoin Price Prediction
After hitting the $60 support level, Litecoin prices are in a strong bearish move that has seen it close the markets with a loss in the past three consecutive trading sessions. Today, with a one per cent loss in the markets, Litecoin is likely to continue with the bearish trend. 
Therefore, I expect the prices to continue trading downwards throughout the trading session. I also expect the trend to continue in the coming session. My Litecoin price prediction expects the price to trade below $50 in the next few trading sessions. If the prices have enough momentum, I expect them to drop to the $40 support level and probably trade below it. 
My analysis will be invalidated if the prices reverse and trade above the $60 resistance level. At that point, the bullish trend will have been established. 
Litecoin Daily Chart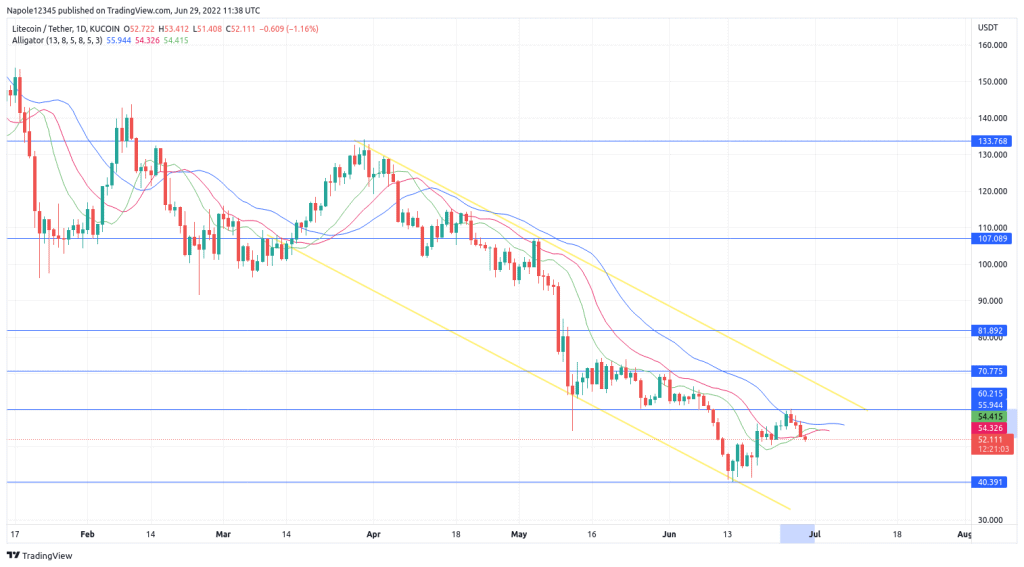 Read More: Is a Price Recovery Near?