Litecoin's price is in an aggressive bearish trend in today's trading session, losing 7 per cent of its value. The prices also look likely to continue dropping throughout the session.
Why is Litecoin Dropping Today?
Litecoin is down by 7 per cent in today's trading session, despite having its trading volume surge by 11 per cent. To many, the drop also looks very surprising because there are no recent headlines that link to Litecoin directly, hence causing the drop.
However, when we look at the wider cryptocurrency industry, we see a few reasons Litecoin is dropping aggressively today. For starters, Litecoin's price is highly positively correlated to Bitcoin's. Therefore, in most cases, Litecoin follows the market direction of Bitcoin.
However, Bitcoin has not been performing well in the past few weeks, and especially in the past few days. This has affected Litecoin and has resulted in the current strong and aggressive push to the downside, which is also the current trend of Bitcoin.
The entire cryptocurrency industry is also in a downturn, which has also affected Litecoin prices. In addition, the strong bear market has also made it hard for Litecoin to recover despite having strong fundamentals. 
Litecoin Price Prediction
Litecoin is already down by 7 per cent in today's trading session. The drop is also a resumption of a long-term bearish trend that has persisted for months. Therefore, I expect the prices to continue falling using the chart below. There is a high likelihood that we will see prices trading below the recent $40 support level.
I also expect the strong bearish move to persist throughout the month. Looking at the chart below, it is highly likely that July will be similar to June, where the crypto lost 21 per cent of its value. It will also be a continuation of a long-term trend that has resulted in Litecoin prices dropping by 66 per cent year-to-date. My analysis, however, will be invalidated if the prices trade above the 55 price level. At that point, a bullish trend will have started.
Litecoin Daily Chart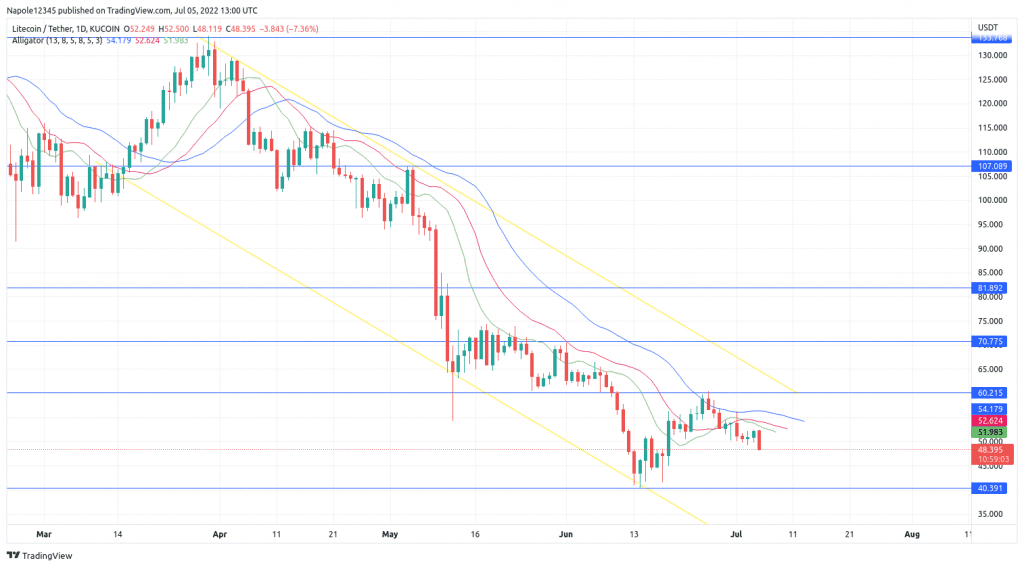 Read More: Why LTC is Headed Down to $40 Price Level