New exchange listings typically act as a catalyst for token rallies in the cryptocurrency space. While a similar outcome was expected for EthereumPoW (ETHW) after the Merge, events haven't panned out as anticipated. 
Despite a listing on KuCoin, ETHW has failed to keep afloat above key support levels, losing over 20% price in a matter of few hours on Monday. 
ETHW is a Layer 1 blockchain that preserves the pre-merge PoW consensus. Amid continued support from ETH miners, Ethereum hard fork token (ETHW), has had its share of social anticipation since the Merge, however, social anticipation has failed to provide a cushion to prices. 
EthereumPoW (ETHW) price heads south
Last week, Ethereum miner Chandler Guo claimed that Ether (ETH) and the new ETHW would have the same USD value in ten years. For now, though, ETHW lost over 20% in the last 24 hours, trading at $9.77 at press time. 
The 2,656 ranked coin had been in a downtrend from Sep. 16 to Sept. 23, but gained quick momentum as macro-market conditions improved. However, at press time, the coin's price hit further headwinds.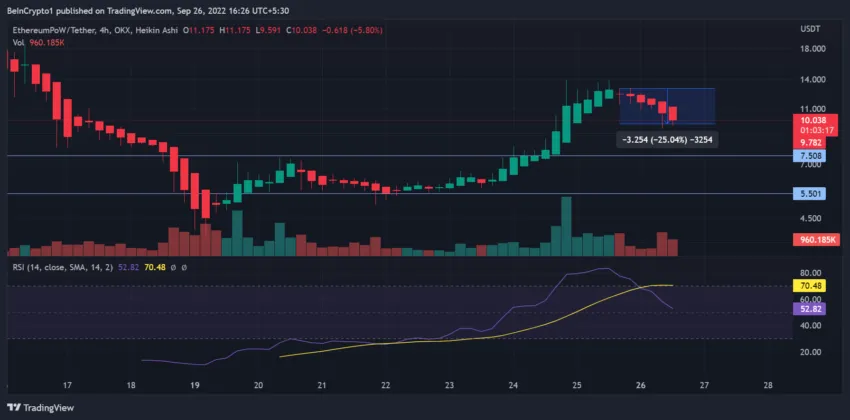 Notably, owing to weakened retail interest evident in the dwindling trade volumes, the coin's price failed to hold above the key $12.2 resistance mark. While the recent KuCoin listing was expected to generate considerable social anticipation and further gains, the same didn't materialize. 
ETHW's relative strength index also saw a pullback from the overbought zone, on the four-hour chart. RSI's downtrend presented weakening buying pressure. 
Nonetheless, on the four-hour chart, buyers still dominated sellers with RSI oscillating above the 40 mark. However, as selling pressure increased, it would be crucial to see if bulls can keep prices above the key psychological support at $10. 
Going forward, the $7.50 and then the $5.5 mark could act as strong support levels for ETHW's price. 
Retail interest falls away
Just a week ago, Guo argued that ETHW has the potential to grow by 100x. However, with the coin currently trading 80% below its all-time high of $58.54, short-term prospects of growth look shaky. 
Dwindling retail interest in the token could also be seen in its daily trading volume which stood at $278 million at press time – a 51.25% fall in the last 24 hours. 
One of the reasons behind the recent sell-offs and subsequent price fall was that ETHW was distributed as an airdrop, which allowed early airdrop HODLers to sell their free tokens adding to the sell-side pressure. 
The recent KuCoin listing showed how ETHW holders may have taken advantage of the relatively higher price of ETHW, thus selling their asset and triggering further price headwinds. 
In the short-term, ETHW price could be strongly tied to the larger market momentum and retail euphoria. Higher social interest and retail volumes could act in the token's favor while lower social volumes could play spoilsport.
Disclaimer
All the information contained on our website is published in good faith and for general information purposes only. Any action the reader takes upon the information found on our website is strictly at their own risk.


Read More: EthereumPoW (ETHW) Price Tanks 20% Despite KuCoin Listing