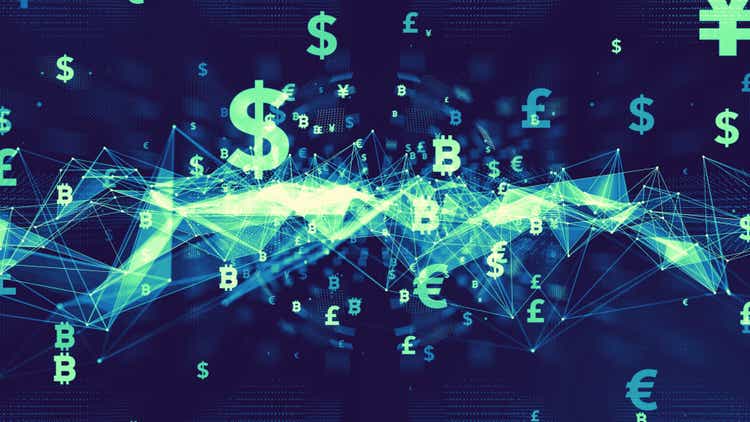 In the past week there has been forced and panic selling of Bitcoin due to the collapse of Sam Bankman-Fried's FTX (FTT-USD) crypto exchange. This might be a unique opportunity to buy Bitcoin (BTC-USD) and Bitcoin-tied assets.
The Greyscale Bitcoin Trust (OTC:GBTC), which owns Bitcoin as its underlying asset, recently traded at 42% discount to the net asset value. While closed-end funds and trusts often trade at small discounts to their net asset or liquidation value, it is extremely rare that any fund trades at a 42% discount.
For certain investors, who believe Bitcoin has a future in the financial world, and with a high risk tolerance, the Grayscale Bitcoin Trust is a buy due to its discount to the current price of Bitcoin.
Background On My View Of Crypto
I think this section is important given the hype, bad information and general lack of understanding around cryptocurrencies. Please bear with me.
I first learned of Bitcoin in 2012. I first bought Bitcoin in 2016. I have traded it three times, all profitably, selling most of my Bitcoin in 2017, 2019 and 2021. I have been accumulating a new Bitcoin position since early summer 2022.
Bitcoin currently makes up an equivalent of about 5-10% of my bank savings (depending how much savings I spend in a given period). It has long been my advice that people with excess bank savings should explore Bitcoin holdings as part of a diversified currency approach. Bitcoin and Ethereum (ETH-USD) combined make up about 4% of my net worth.
I have not been a crypto cheerleader though. The disclaimer in many of my articles on crypto has been this:
The short story is that most cryptocurrencies are going to zero, but there will be survivors that rise to much higher price ranges. We expect Bitcoin and Ethereum to be among the biggest, if not the biggest. The world of Blockchain is far bigger than crypto though and we expect some big winners there too. This is a journey of separating winners from losers.
I have been covering crypto currency, in particular Bitcoin and Ethereum, for members of my investment letter Margin of Safety Investing since I started the service. This includes numerous investment webinars.
Part of a my discussion with Meb Faber in early 2021 included caution about volatility, but belief Bitcoin would have a future in the financial world. In January 2022, I interviewed crypto and accounting expert, Dr. Sean Stein Smith, and in that conversation said this about crypto:
(27:52) "…for somebody who's worried that well I missed it, it's too late to get into Bitcoin or Ether, I would still tell them buy the dips. I'd be looking for big dips 30, 40, 50 percent dips because I think that's the kind of volatility Bitcoin is in for… (28:51) I'll probably buy some Bitcoin if it really gets down into the 20s again, you know the 20,000 area, I think that 20 to 30,000 range is like a pretty hard floor. I know a lot of technical guys are saying 37,000 I don't know I just wait for the momentum to be done going down and then I pick up the knife off the ground, um, yeah I might miss the first move up…
(57:11) "I think the main answer is Ethereum and Bitcoin and maybe a couple of competitors to Ethereum, are gonna do well. You know I am on record of saying that 99% of cryptos are going to zero…"
I would consider myself a Bitcoin "mediumist." That is, I think it will have a role in the financial world, which I'll cover in closing, but that we will never buy our pizza with it.
That made me hungry, so let's dig into…
The Mechanics Of GBTC's Discount
The Greyscale Bitcoin Trust is not an ETF (it wants to be), thus it does not trade based on the value of its underlying value of its holdings like an ETF would. Rather, its trust structure causes it to trade like a closed-end fund, subject to the price that investors are willing to pay for it.
In addition, for the unfamiliar, you cannot take Bitcoin out of GBTC by being an owner of GBTC units. It is not a brokerage like Coinbase (COIN).
So, while the value of the Bitcoin in the trust was worth 42% more than the trust's trading price on the exchange the other day, that's what investors were willing to pay, so that's what the price was. A simple supply and demand equation.
When GBTC was only Bitcoin game in town, market demand outstripped supply, shares of GBTC was trading at a premium or for more than the underlying bitcoin it represents. This was the case for much of 2015 to 2019.
When supply outstripped demand (roughly around the time Bitcoin ETFs became available), shares of GBTC flipped to trading at a discount.
Closed-end fund firm Nuveen explains that closed-end funds trade at discounts frequently, especially during volatile times. If that's the case, why wouldn't you buy a closed-end fund or trust trading at a discount? That's actually a good question with a legitimate answer.
The Reasons GBTC Trades At A Discount
A CEF or trust might trade at a discount because people anticipate there is a high risk that the underlying assets could trade lower in value. In essence, this is the market partially anticipating a price decline in the underlying assets, in this case Bitcoin.
So, why did demand fall for the Grayscale Bitcoin Trust in the first place? Probably a combination of competition from ETFs, fear of falling Bitcoin prices and limited liquidity for the fund – both internally to dispose of assets and externally of having a large market to sell GBTC into should there be a volatility driven deeper dive in price.
A few days ago, crypto lender BlockFi said it unwound its entire position in GBTC and would not take shares as collateral, before walking back the statement hours later. Why would it do that? Well, if it needs liquidity, it wants an asset that is highly liquid and has at least some semblance of stable value.
Blockfi is also a firm that suddenly announced layoffs and might be heading to bankruptcy due to its ties to FTX which filed bankruptcy last week. FTX apparently overleveraged its balance sheet and backed that leverage with its own coin which had very little real value it turns out. Now, Blockfi suddenly has a liquidity crisis.
So, you have to consider if the falling price of Bitcoin recently is part of a capitulation event caused from Sam Bankman-Fried and FTX's Bankruptcy. This event has actually mimicked the Fed's tightening policy by sapping crypto liquidity.
With Bitcoin falling from a high of around $69,000 to slightly under $16,000 in about the past year, it's understandable that people are scared of a further decline in Bitcoin prices. Add a lower liquidity threshold for GBTC and it trades at a deep discount.
And, as mentioned, there is a lot of fully liquid Bitcoin ETFs available now – 18 by my count. All are currently futures based products, which is interesting to me when considering how crummy futures based commodity ETFs have treated investors over the years.
Will GBTC Close The Discount Gap?
That depends on what you think of Bitcoin, the structure of Grayscale Bitcoin Trust, and, prepare to have your noodle twisted, what the future structure of the Grayscale Bitcoin Trust might be.
We're not going to argue about the future of Bitcoin today, but, suffice to say, if you don't think Bitcoin has a future in the world of finance, well, then you probably won't want to buy any GBTC at any price. That's easy.
If you do think Bitcoin has a future in the world of finance, then you should consider GBTC in your basket of crypto investments. For if Bitcoin has a future, and it's more optimistic than current pricing, then the pessimism and concerns that drove GBTC demand down, should reverse to at least some extent.
We know GBTC is not cheap with an expense ratio of 2% on top of trading expenses. That works against it versus ETFs and direct Bitcoin ownership.
And, as covered in Axios, "Grayscale may have misstepped and overissued shares to the market." Simply put, there could be too much supply of GBTC units. I don't find this particularly compelling if you think Bitcoin indeed has a role in global finance.
This is where it gets very interesting. Grayscale is trying to change the structure of the trust to be a Bitcoin physical, aka, spot, ETF. This is akin to the Sprott Physical Gold ETF (PHYS) and other physical commodity ETFs.
So far, the SEC has said no, then softened, then hardened again on allowing Bitcoin spot ETFs that hold actual Bitcoin. What you think about the future of Bitcoin spot ETFs plays a direct role in whether or not GBTC might be a good investment for you.
A Bitcoin spot ETF approval would allow Grayscale to convert its trust into an ETF, closing the gap between price and the underlying bitcoin. That is because of the unique ETF share creation and redemption mechanism using authorized purchasers. The result is that ETFs tend to only impact the price of underlying assets during especially high volume.
If GBTC is allowed to become an ETF, then its price should close the discount gap rather quickly via the standard ETF share creation and redemption process.
Will GBTC Become An ETF?
So, that begs the question whether GBTC will become a Bitcoin spot…


Read More: Here's Who Should Buy The Discount At Grayscale Bitcoin Trust