XRP price staged a slow recovery in November as investors focused on the FTX collapse. It also bounced back as investors waited for the outcome of the SEC vs Ripple case in the United States. Ripple rose to a high of $0.4190, which was about 34% above the lowest level during the month.
When is the SEC vs Ripple verdict?
The XRP price has been in a bullish trend in the past few weeks as focus remained on the SEC vs Ripple case.
December will be an important month for the case. For one, it will mark the start of the third year of the case. As such, there is a likelihood that several events will happen during the month.
Some analysts believe that the SEC could seek to settle the case with Ripple Labs and its executives. They point to the fact that the SEC will likely want to protect documents by Hinman, a former director of the institution.
These analysts expect that this settlement could be reached on December 2 or 5. On either of these dates, Ripple and SEC are scheduled to meet and discuss redactions of the documents.
Find out how to buy Ripple.
The outcome of the case will have an important implication on Ripple and other cryptocurrencies. In my view, I suspect that most outcomes will be positive for both Ripple and XRP prices.
If Ripple did indeed commit crimes, the most severe punishment will likely be a fine. Also, the SEC will be taken to task about the other players in the crypto industry. With thousands of cryptocurrencies, the SEC will need to explain why it singled out Ripple.
The other key catalyst for the XRP price will be related to macro events. In particular, the final Fed meeting of the year will play a role in crypto price action. A sign that the Fed will embrace a dovish tone in 2023 will be a bullish factor for cryptocurrencies.
XRP price forecast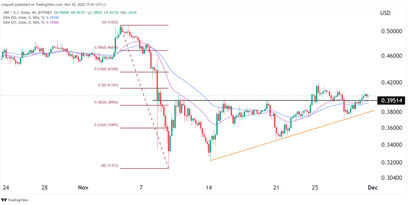 The four-hour chart shows that the XRP price has been in a strong bullish trend in the past few weeks. Along the way, it has formed an ascending triangle pattern that is shown in orange. In price action analysis, this pattern is usually a bullish sign. It has also moved between the 38.2% and 50% Fibonacci Retracement levels.
Therefore, the outlook for Ripple in December is bullish, with the next key resistance level to watch will be at $0.50, which is about 25% above the current level.


Read More: XRP Price Prediction Ahead of SEC vs Ripple Anniversary